Astrovac Air-Driven Hose & Tool Set
2002 Hose & Tool Set
As an alternative to an electric brush, for homes with extensive use of wall-to-wall carpet, or even smaller homes with limited carpet, a premium air turbine brush could be considered.
Designed for both high-pile padded carpet and carpet laid directly on hard floors, the TP-210 turbine brush provides many of the features of an electric brush at a savings in weight and cost. The lower weight of the turbine is complemented by a lower weight hose that can result in better maneuverability. The low profiles of turbines in general give better access and control when cleaning under furnishings.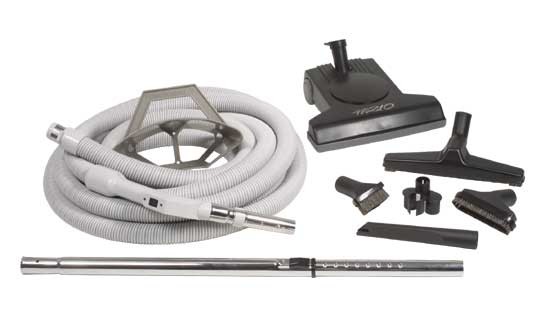 Consider a hose that is lightweight and features a swivel handle to prevent kinks and wrist strain. Since there is no power cord to the brush the transition to other tools is quick and easy. Adding a ratchet telescopic wand, quality hard floor brush, and a complete set of above the floor tools gives you an excellent alternative to an electric brush.
Astrovac Electric Hose & Tool Sets
2006 Hose & Tool Set
Smaller homes, homes with mostly hard floors and area rugs can get the power and features of a premium 14″ powerhead in a 12″ package.
The compact CT-12DX powerhead has a slightly smaller footprint than the CT-14DX, but is as reliable as it is durable. The full wrap-around bumper is gentle on furnishings and baseboards. The height adjustment feature makes for excellent grooming on all carpet types with wheels designed to eliminate tracks. The "chevron" brushroll ensures that extra edge in pickup and cleanability. The headlight illuminates the cleaning path under furnishings and in less well-lit areas.

An important component in any kit, the electric brush, also provides an overall measure of a kit's quality. It should be as easy to use and as lightweight as the powerhead, with a swivel neck and good balance. "Cord management" should keep power cords from underfoot making use of other accessories safe and easy.
High quality accessory tools, such as a floor brush, is important in a kit where hard floor surfaces may represent the primary cleaning surface. Consider a natural brush fill to protect delicate floor finishes with sufficient width to get the job done with a minimum of fuss. Adding a telescopic wand to a kit is an important plus.
For homes with substantial areas of "higher pile" carpeting, a powerhead featuring a "beater-bar" can be effective in removing dirt that is deeply embedded in hard to reach carpet surfaces and layers.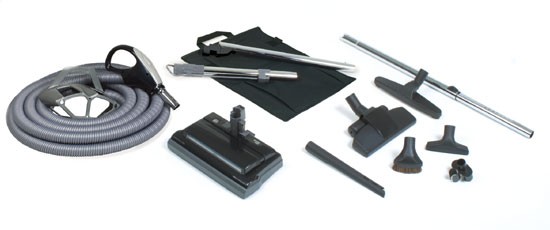 Consider features like a headlight — for vacuuming under furnishings; height adjustment — to match the brush to the floor surface for more effective cleaning; a reset button — to prevent belt and motor burnout where an object has stopped the brush-roll; and other extras — like an easy-release for "above-the-floor" cleaning and wraparound bumpers to protect furnishings.
The hose, which provides power to the brush, should be as lightweight as possible and provide a swivel handle to prevent wrist strain and kinks. The hose should feature "cord-management", keeping cords out of the way and making "above-the-floor" cleaning less of a hassle. With the increased use of hard floors in most homes today, add a second set of wands and hard floor tools designed for gentle treatment of these surfaces. A ratchet telescopic wand "custom fits" the user to his work. Natural fill dusting and upholstery tools give great results in cleaning furnishings.